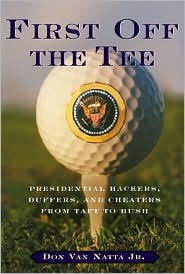 On a lighter side:
Presidents who cheat at golf? What's next? A Washington correspondent for the New York Times, Van Natta has the inside scoop on presidential golfers both then and now: who has game, who doesn't and who should lay down his clubs in deference to those who appreciate fair play. From the best (John Kennedy and Franklin D. Roosevelt) to the worst (Calvin Coolidge and Ronald Reagan), to the cheaters (Bill Clinton and Lyndon Johnson), Van Natta shares insights about our nation's leaders and their passion for the game. Lyndon Johnson used golf to intimidate political opponents. Woodrow Wilson played every day, often during political crises. JFK feared the implications of public knowledge of his prowess. The public had not appreciated Eisenhnower's obsession (
played as many as 100 times per yea
r), since golf was still seen as a "rich man's game," and not an appropriate activity for the "champion of the people." Van Natta's research is impressive and his writing style is engaging, but the text feels a bit like a one-trick pony. Filled with anecdotal bits and pieces, there is more of interest here to historians than to serious golfers.
_______________________________________
For the record Obama has a 16 handicap.