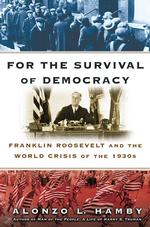 In this ambitious work, Alonzo L. Hamby provides a comparative history focused on Franklin D. Roosevelt and Adolf Hitler as charismatic leaders in a time of global crisis. Hamby's account will discomfort celebratory liberals and critical New Leftists, while showing conservatives why scholars perennially rank FDR among the top three U.S. presidents. Summarizing the First New Deal as "a humanitarian success, a political triumph, and an economic failure" (p. 147), Hamby revises how we look at FDR, the New Deal, and Democratic liberalism.

Answering the call for comparative history by John Garraty in "The New Deal, National Socialism, and the Great Depression" (American Historical Review 78 [October 1973]: 907–944) and The Great Depression (1986), Hamby asks why FDR's New Deal failed to bring economic recovery, while British Conservatives Stanley Baldwin and Neville Chamberlain and Nazi fuhrer Hitler achieved significant recovery by 1935. Historians remember FDR as a great liberal reformer, while we overlook or disdain the records of his conservative and fascist counterparts. Hamby places FDR and New Deal reform in international perspective, finding some striking similarities between FDR and Hitler, surprising comparisons of New Deal liberalism and British Tory socialism, and significant differences among the political cultures of the world's three leading national economies in the interwar years.
_________________________________________
I picked up this book a couple of years back which deals with Roosevelt and the World Crisis of the 1930s.